"History doesn't crawl; it leaps"
– Nassim Taleb
---
RESEARCH
Vanguard economic and market outlook for 2023: Beating back inflation (61 pages)
Vanguard with its 2023 outlook covering economic perspectives and global capital markets outlook.
Source: Vanguard
---
KKR – Outlook for 2023: Keep It Simple (74 pages)
KKR with its 2023 outlook with global and regional economic forecasts, along with their key themes, which include:
Simplicity rather than complexity
Real assets
The energy transition
Source: KKR
---
FACTS & FIGURES
Half of Netflix's top 10 US shows ever released were in 2022
. 
Link
"Between 6 and 7 percent of all the money earned by American Black men born in 1988 was earned by NFL and NBA players." But wait, there's more: "Kevin Durant's annual income represented almost 1 percent of all the money earned by the more than 300,000 African American men born in 1988." Link
"Roughly 70 special-purpose acquisition companies have liquidated and returned money to investors since the start of December. That is more than the total number of SPAC liquidations in the market's history" Link
Almost 1 in 5 people in the US age 13 or older listen to a podcast daily (double the rate it was in 2018). Link
---
Bespoke puts the current bear market in historical context:
As of 12/29/22
---
Earnings rose in 2022, but valuation multiple compression pushed the S&P 500 lower.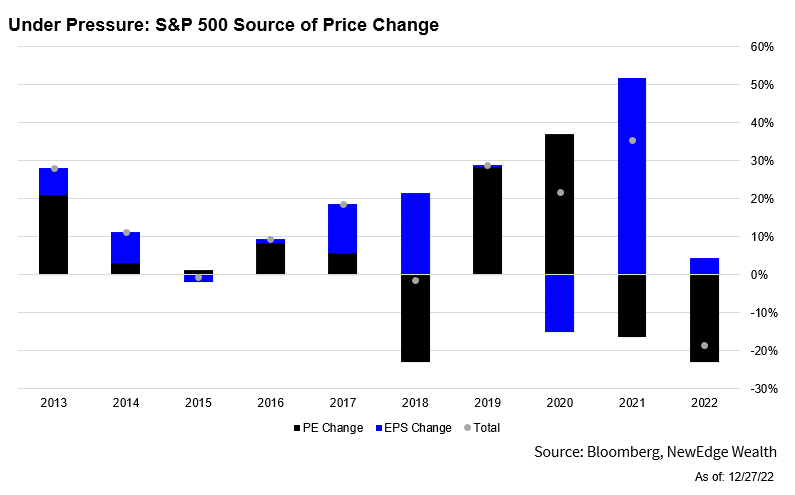 ---
Last year's end-of-year forecasts for the S&P 500 Index. 
 Link
---
And there's no consensus for 2023. Link
---
2022 in search trends. Link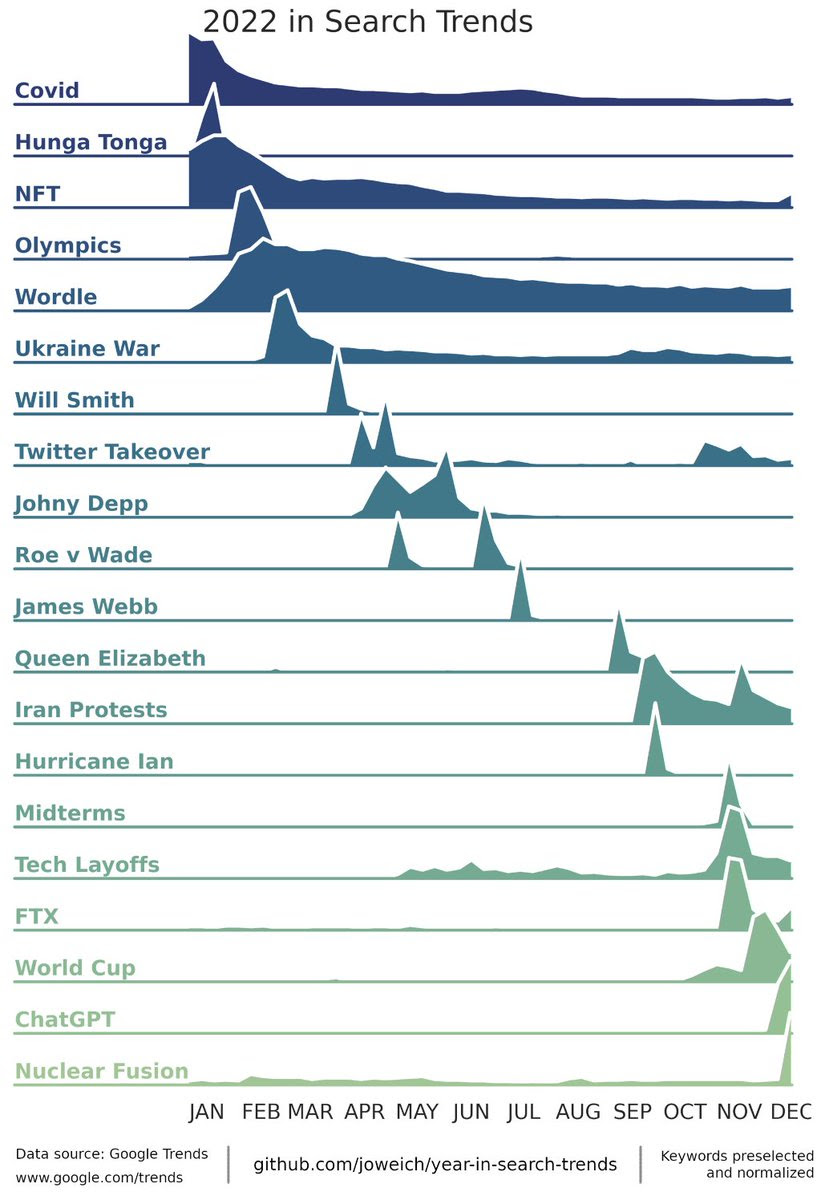 ---
Bill Miller is well-known for his streak of beating the S&P 500 for 15 consecutive years. Here's an interesting point from him in his 4Q 2005 investment letter. Link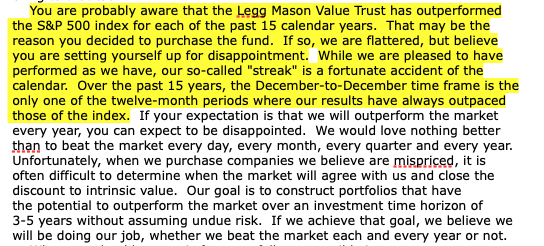 ---
Hedge fund fee compression continues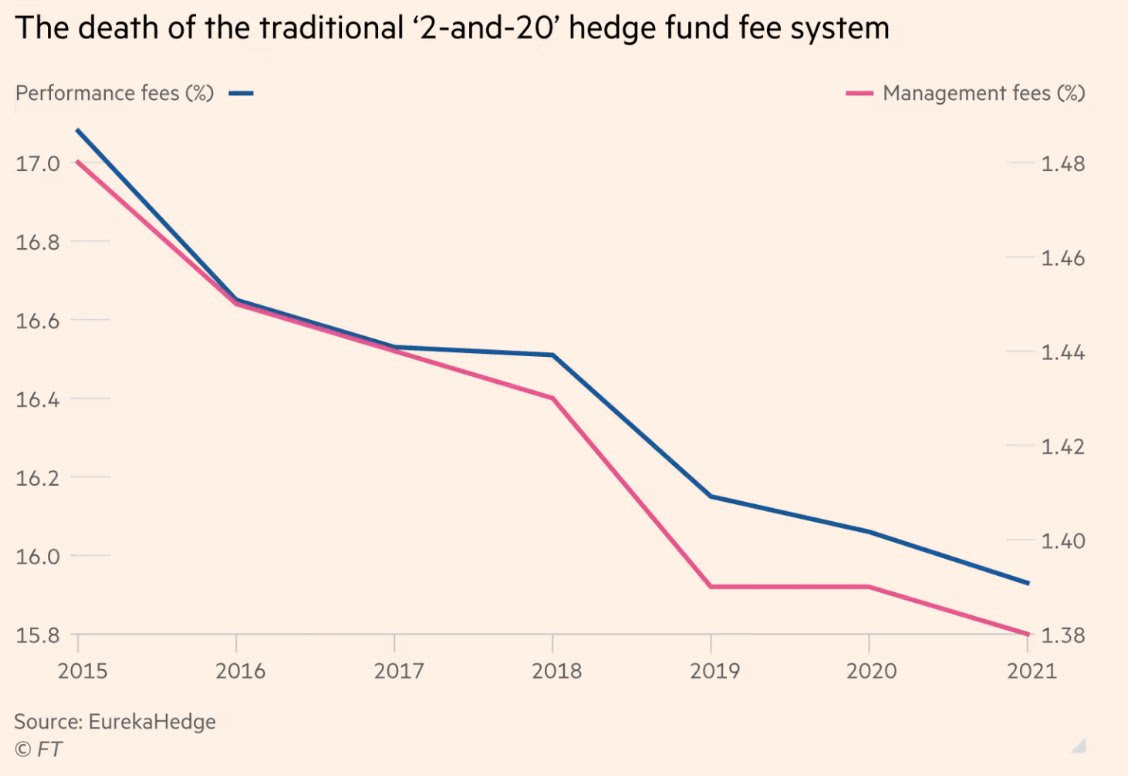 ---
PODCASTS
Now There Are One-Stop Shops to Launch Your ETF
[12/22/22 – 36 minutes]
Apple | Spotify | Google
Garrett Stevens, Mike Venuto, and Wes Gray discuss their white-label ETF business. They touch on how they vet new ideas, why there is so much demand to launch ETFs now, and the impact of Goldman Sachs Group's entry into the business and a potential wave of mutual fund to ETF conversions.
---
Bonus: Vaclav Smil, author of How the World Really Works, on the Reality of the Energy Transition
[12/22/22 – 29 minutes]
Apple | Spotify | Google
In a rare media appearance, academic and best-selling author Vaclav Smil separates fact and fiction on the global energy markets today. He shares what the energy transition by 2050 really means, how energy transitions have evolved history, and much more.
---
Want to share this with someone? Click here
Did someone forward this to you and you'd like to subscribe? Click here