"Bear markets exist to destroy the stupidities of the previous bull market."
– Ralph Wanger
---
RESEARCH
Vanguard's guide to financial wellness (52 pages)
A great piece on the personal finance side of things that covers some important and practical steps to consider along life's financial journey.
---
AngelList – The State of U.S. Early-Stage Venture & Startups: 2022 (29 pages)
AngelList looks back at 2022 and analyzes data on how the venture and startup markets evolved during the year. Some key takeaways:
Activity rate and positive activity rate declined by 5 percentage points in 2022 over the previous year.
The decline in positive activity was particularly pronounced in the second half of the year, with only 67% of startups raising at a valuation increase in 4Q22—a 17 percentage point decline from the beginning of the year.
Fintech remained the most popular sector for investment on AngelList in 2022, followed by Web3.
Startup spend continued to decline in 4Q22 as market conditions for early-stage startups worsened.
The charts below show the median valuation by deal stage over time. Pre-seed and Seed valuations remained ~flat in 2022, but the median Series B valuation declined by 28% to $125M from 3Q22 to 4Q22, and declined 50% from 1Q22 to 4Q22. The median valuation at all stages in 2022 is still above 2020 levels.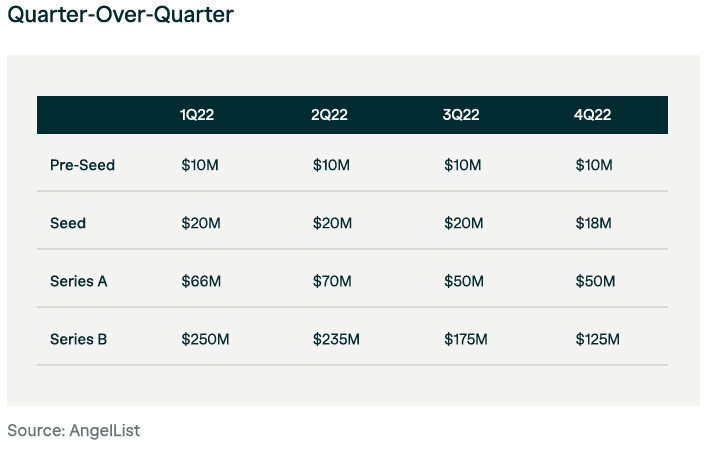 ---
BONUS CONTENT
.
Meb Faber answers the question, "What investment belief do you hold that the vast majority of your peers (+75%) do not share?"
Link
---
Cliff Asness on volatility laundering, the illiquidity premium, and private equity's (lack of) mark-to-market valuations. Link
Given the massive popularity of private investing today, it may very well be true that, as a great man once almost said, "Never have so many paid so much to so few for the privilege of being told so little."
---
Ted Seides on why frauds like Madoff & SBF will continue to happen. Link
When you conduct analysis on an investment, you spend 99% of your time assessing the merits of the opportunity and 1% thinking about whether what you see is real. The fraudster spends 100% of their time staying two steps ahead of you.
---
US public-employee plans are underfunded, chasing higher returns and underperforming international peers overseen by professionals. Link
.
Where boards' own expertise has fallen short, they've relied on investment staff and outside advisers, whose appetites for complexity add to costs and eat into returns … The disconnect was on display at a 2021 investment committee meeting of the California Public Employees' Retirement System, which provides benefits to more than 750,000 individuals. An external adviser warned board members that the boom in blank-check companies was a sign of froth in financial markets.
"I had never heard of those," chairwoman Theresa Taylor told her fellow directors of the then-sizzling products known as SPACs, according to a transcript of the meeting.
---
The supply chain for renewable energy technology is even more concentrated than for fossil fuels, with China dominating the manufacturing of renewable-energy technologies today. Link
China refines 95% of the world's supply of cobalt, a metal used in lithium-ion batteries. It manufactures over 70% of sicilia-based solar photovoltaic modules and is home to three-quarters of global electric-vehicle battery production capacity.
---
A good summary on the structural factors related to inflation and why investors may be underestimating the long-term upward pressure on prices. Link
"To this moment most economists, businessmen and government officials obstinately regard inflation not as the structural vulnerability of contemporary capitalism but rather as the accidental result of unlucky coincidences requiring only patience, time (and unemployment) for its alleviation."
– Arthur M. Schlesinger Jr., December 1974
---
PODCASTS
Trend Following Master Class ft. Russell Korgaonkar, CIO at Man AHL
[1/16/23 – 67 minutes]
Apple | Spotify | Google
Korgaonkar shares how Man AHL uses trend-following in their strategies, his take on crisis alpha, and his advice on how much to allocate to a trend-following strategy.
---
Cliff Asness — FTX, Hedge Funds and the Value Spread
[1/12/23 – 63 minutes]
Apple | Spotify | Google
AQR's Cliff Asness shares his thoughts on the FTX fiasco, what it was like shorting AMC and having retail investors take notice, and why he believes value stocks look attractive today.
---
Macro Is Back With A Vengeance | Steve Drobny
[1/15/23 – 48 minutes]
Apple | Spotify | Google
Clocktower Group CEO Steve Drobny shares why he believes the macro landscape today differs from the past twelve years, what it takes to succeed when launching a macro fund, and why he likes cash today.
---
Want to share this with someone? Click here
Did someone forward this to you and you'd like to subscribe? Click here