"A safe investment is an investment whose dangers are not at that moment apparent."
– Peter Bauer
---
RESEARCH
Morningstar – Don't Lose Faith in the 60/40 Portfolio (13 pages)
After last year, investors may be questioning the place of bonds as a diversifier. Morningstar gets into some takeaways from 2022, why the stock/bond relationship isn't set in stone, and some thoughts about 60/40 going forward.
---
SPONSORED BY EXIRIO
No More Spreadsheets to Track Your Investments
Exirio has developed a comprehensive app to track your wealth, and understand how hard your money is working for you.
It provides connectivity to thousands of financial institutions and crypto platforms, full trading history & performance metrics, and a wide selection of currencies and asset classes.
Exirio offers additional features for convenience and peace of mind, including storage space for investment-related documents and the ability to grant third-party access (view, edit, or emergency access) to trusted individuals – family members or investment advisors.
Exirio implements bank-grade security to protect user's personal data, is secure by design since day 1, without exceptions.
Try it now on desktop, iOS, and Android
---
FACTS & FIGURES
As egg prices rise in the US, so does egg smuggling from Mexico. 
Link
A record 2.8% of .. people in 401(k) plans run by Vanguard Group tapped their retirement savings in 2022 to cope with hardships such as medical bills, eviction or foreclosure .. up from 2.1% in 2021 and a prepandemic average of about 2%. Link
114x annual recurring revenue — the multiple at which private, venture-capital-backed SaaS companies raised capital in 2021, up from "only" ~15x to 30x a few years prior (Source: Pitchbook/IVP). Link
The number of newborns in China in 2016 was 17.9 million, a jump of more than 1 million from the year before. However, births dropped each year after that, to 9.56 million in 2022, the lowest since at least 1950. Link
---
Flows to emerging markets have begun to rise. 
As of 1/26/23 
---
Total return for most assets in January 2023 differed from FY22.  Link
---
Food inflation hasn't disappeared, especially in low and middle income countries.
---
Trends in earnings calls:
Swearing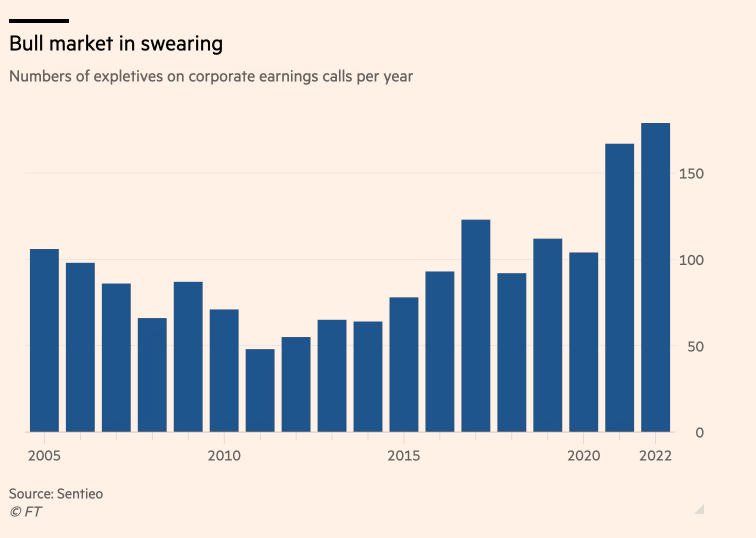 .
Interest rate related mentions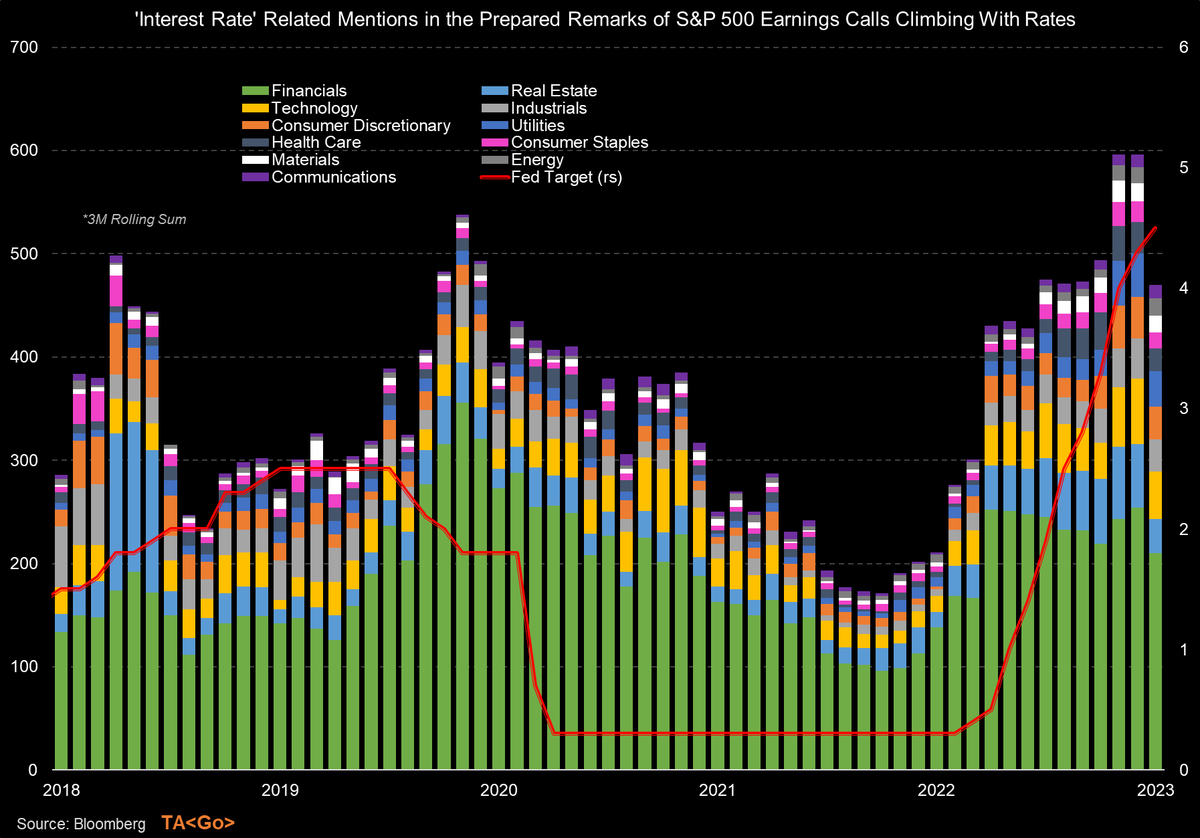 ---
The 'Widowmaker' Crypto Trade That Helped Blow Up an Industry
[1/20/23 – 37 minutes]
Apple | Spotify | Google
This episode looks at the interconnectedness between various crypto firms, many of which are tied to the Grayscale Bitcoin Trust (GBTC), one of the first regulated entities that allowed investors to get Bitcoin price exposure.  They discuss the evolution of the discount and premium to NAV over time, and the state of GBTC today.
---
Inside The Collapse of FTX with Travis Kling
[1/20/23 – 88 minutes]
Apple | Spotify | Google
Kling spent 10 years in traditional finance, most recently at Point72, before launching a crypto hedge fund and ultimately losing the majority of his assets when FTX stopped allowing withdrawals. In this episode, he walks through what it's been like to be on the frontlines of the FTX collapse, how he's thinking about his future, and what his hopes are for the crypto industry.
From The Episode:
"The bad guys are kicking the shit out of the good guys. Look at what just happened, this shit is in shambles right now. The space has this attack vector from intelligent sociopaths, and they've done so much damage at this point."
---
Legendary Investor Bill Gurley
[1/25/23 – 137 minutes]
Apple | Spotify | Google
Venture Capitalist Bill Gurley walks through the evolution of the venture capital market since 2020, the current state for startups and VC firms today, and lessons learned Jeff Bezos, Howard Marks, and others.
From The Episode:
"The minute you set a very hard rule, you might be setting yourself up for a mistake. And venture, I have found, is a world where that happens frequently."
---
.
Twitter LinkedIn YouTube Tik Tok Instagram Podcast
.
Want to share this with someone? Click here
Did someone forward this to you and you'd like to subscribe? Click here