"It isn't what a man has that constitutes wealth. No — it is to be satisfied with what one has; that is wealth."
– Mark Twain
---
RESEARCH
Quantica –  half-century of trend-following: How CTAs make money in different yield curve regimes (11 pages)
Quantica analyzes and quantifies the opportunity set of profitable trends in bonds, equities, commodities and FX as a function of the term structure characteristics of US interest rates. They highlight the importance of a diversified approach to trend-following across all main liquid asset classes in order to achieve the best possible long-term risk-adjusted returns.
Source: Quantica Capital. Return & diversification opportunities offered by government bond futures as a function of yield level change and yield curve slope.
---
Samonov & Sorokina – A Century of Asset Allocation Crash Risk (56 pages)
The authors look at almost 100 years of data to test the long-term performance of U.S. and Global 60/40, Diversified Multi-Asset, Risk Parity, Endowment, Factor-Based and Dynamic Asset Allocation portfolios. Their takeaway:
"While Factor-Based portfolios exhibit best traditionally measured risk adjusted returns in the long run, the Dynamic Asset Allocation reduces the abandonment risk due to its lower expected drawdown. Across all strategies, risk-tolerant investors that rely on the longer history for setting their expectations, experience significantly better outcomes, particularly if their investment horizon includes times of crisis."
---
THE HOUSING MARKET
.
The monthly mortgage payment needed to buy the median priced home for sale in the US has increased from under $1,500 2 years ago to over $2,500 today. 
As of 3/5/23
---
US mortgage application are at the lowest level since 1995. 
---
2022 was a historically bad year for home affordability.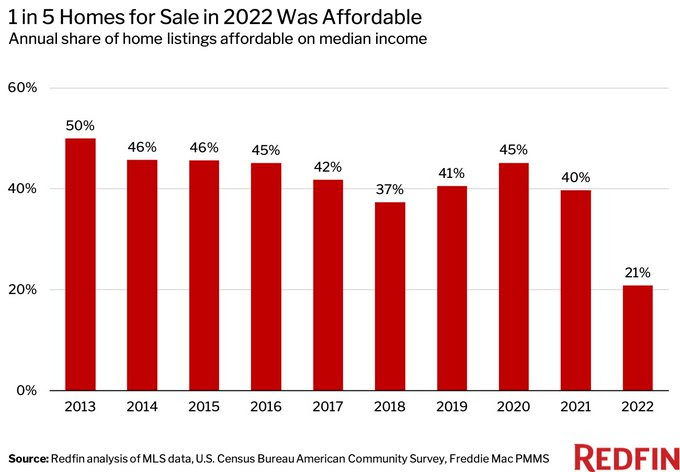 ---
Great look at the change in home values across the US from their 2022 peak.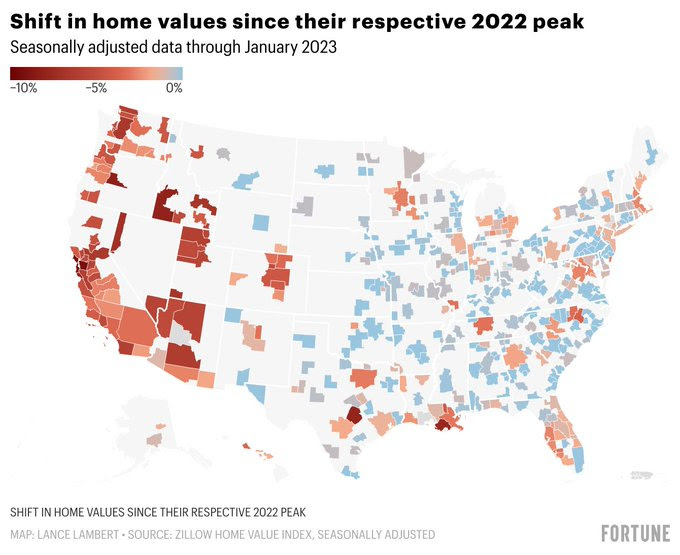 ---
Fewer homes received multiple offers in January 2023 compared to January 2022.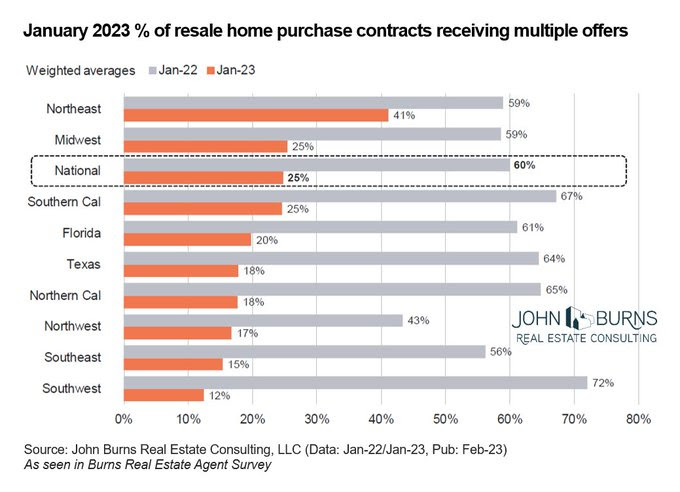 ---
PODCASTS
Crisis Alpha Revisited ft. Katy Kaminski, Chief Research Strategist at AlphaSimplex Group
[2/24/23 – 72 minutes]
Apple | Spotify | Google
Katy Kamisnki shares her approach to using trend-following and managed futures, her thoughts on crisis alpha (a term she coined), and why macro uncertainty benefits trend-following.
---
Tom Gayner – A Discussion with Markel's CEO
[3/2/23 – 69 minutes]
Apple | Spotify | Google
Markel CEO Tom Gayner shares how he thinks about capital allocation, the ties between Markel and Berkshire Hathaway, & how he's evolved as an investor during his career.
---
The Four Pillars of Macro with Andy Constan
[2/23/23 – 60 minutes]
Apple | Spotify | Google
Constan shares his macro framework, which incorporates growth, inflation, flows and risk premia. Then he shares his view of the world today, his expectations for inflation the rest of the year, and lessons from his time at Bridgewater.
---
Here's Another Great Newsletter To Read
The Acquirer's Multiple – Tobias Carlisle is an author, financial commentator, and owner of The Acquirer's Multiple website (TAM). TAM provides a range of screening tools that investors can use to analyze stocks using the Acquirer's Multiple. Tobias also provides a great weekly newsletter that includes value investing news, superinvestor updates, stock analysis, investing podcasts, and latest research.
We recommend you check it out here.
---
Twitter LinkedIn YouTube Tik Tok Instagram Podcast
.
---
Want to share this with someone? Click here
Did someone forward this to you and you'd like to subscribe? Click here