"We don't want to give money to people that want our money. We want to give it to people that don't want it."
– Mark Yusko
---
RESEARCH
Bloomberg – Investing Through a Structurally Inflationary Regime (23 pages)
Steve Hou on the macro backdrop, inflation, and asset class performance during inflationary periods and across economic regimes.
---
FACTS & FIGURES
.
Over half of Airbnb's current listings have been added since 2020. 
Link
Over the past 43 years, real wages for Americans are up 6.9% in total. Link
A Monmouth University poll found that 68% of Americans support legalizing small amounts for personal use (up from 22% 25 years ago). Link
Since April 2020, the labor force participation rate for American adults with disabilities has risen almost 5%. Link
US stocks now comprise around 70% of the MSCI World Index, up from 50% in 2009 and only 35% in 1995. Link
---
It's been a year to forget for the 10-year US Treasury
.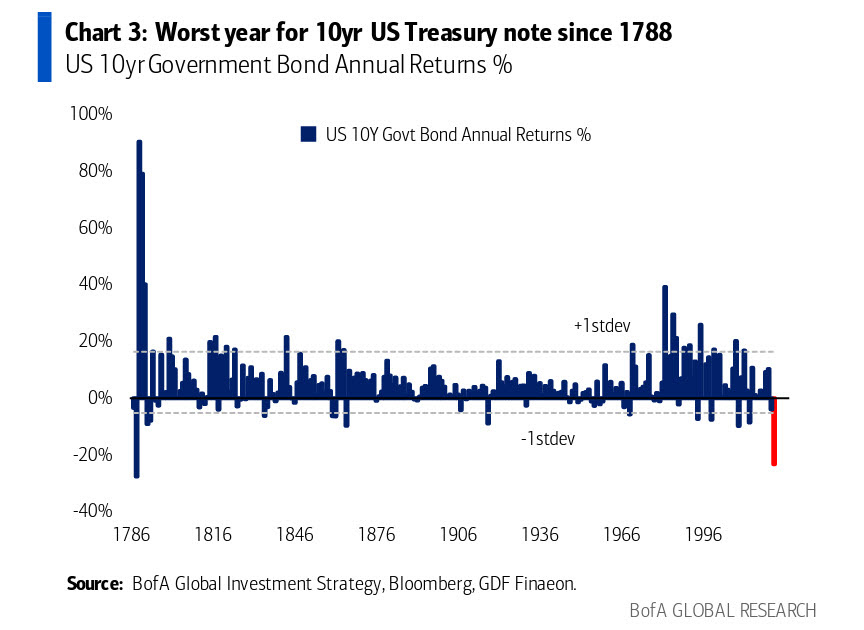 As of 10/28/22
---
There's potential for more wealth destruction . . .
As of 10/20/22
---
Historically, once inflation gets above 8%, it takes ~2 years fall beneath 6%
---
With the recent decline, the MSCI China is now flat over the past three decades
---
Sponsored by 
AcreTrader
Maybe It's Time for a Boring Investment
With both stocks and bonds down and still falling, it may be time to investigate an asset that's a little less…eventful.
Over the past 20 years, the NCREIF Farmland Index has outperformed the S&P 500 with less volatility.1
Research from Nuveen, the $1.3 trillion investment manager of TIAA, has shown that adding 2-5% of a portfolio to farmland and/or timberland can improve a portfolio's overall returns and at the same time reduce risk.2
AcreTrader makes it simple to invest in professionally reviewed farmland online and seek passive income.
In the past couple of months they've reported on their first four fully realized deal cycles, and now have offerings hitting the platform each week.
And they added timber offerings to the platform earlier this year.
Try boring. Try farmland by visiting www.AcreTrader.com/meb.
.
1
Source: (2022, August 11). Morningstar. The annualized return for the NCREIF Index is calculated based on the published Index levels from 3/31/91 to 6/30/22.
.
2
Source: (2021, May). Nuveen. Resiliency and diversification from uncorrelated market exposure.
.
Index performance is presented for illustrative purposes only. Past performance is no guarantee of future results. The National Council of Real Estate Investment Fiduciaries (NCREIF) published the NCREIF Farmland Index, a quarterly time series composite return measure of investment performance of a large pool of individual farmland properties acquired in the private market for investment purposes only. Investments cannot be made in an index. Unmanaged index returns do not reflect any fees, trading costs or other expenses.
---
PODCASTS
[10/28/22 – 79 minutes]
Apple | Spotify | Google
Professor Siegel and Jeremy Schwartz of WisdomTree discuss the current market and major takeaways from the updated edition of Stocks for the Long Run.  They touch on the recent run in value, boom and bust cycles over time, and Professor Siegel's criticism of the Fed.
---
Show Us Your Portfolio: Rob Arnott
[10/27/22 – 55 minutes]
Apple | Spotify | Google
Rob Arnott shares how he manages his personal portfolio, including stocks, bonds, and alternatives. He also touches on his approach to philanthropy, his approach to passing along his wealth to his children, and a fun story from making a private investment.
---
Oculus & Anduril Founder Palmer Luckey: From Flipping iPhones On Ebay To Selling For $2Bn To Facebook
[10/25/22 – 90 minutes]
Apple | Spotify | Google
This episode covers Luckey selling his first company and the process of negotiating with Zuckerberg, building technology for national security, and why he still flies coach to this day.
---
Systematic Investor Series ft. Andrew Beer
[10/16/22 – 110 minutes]
Apple | Spotify | Google
Beer discusses managed futures replication, ETFs and how ETFs have helped investors access sophisticated strategies at a lower cost, and how Beer has been able to gain traction among the advisor community.
From The Episode:
"Commodities often drive returns during an equity crisis. It's the most consistent sector. Is [adding commodities] something you have thought about? Many advisors are including managed futures for that particular reason."
---
Want to share this with someone? 
Click here
Did someone forward this to you and you'd like to subscribe? Click here