Newsletter Sampler: Yardeni QuickTakes
NEWSLETTER SAMPLER
Interested in sampling paid newsletter services?
Check out 👇

Name: Yardeni QuickTakes
Frequency: Daily (24/7 access to our website)
Audience: Individual investors
Cost: $29/mo (free trial is available)
Author: Dr. Ed Yardeni & Research Team
Topics: Daily insights on the markets, focused economic news, weekly video webcasts, and access to their 24/7 updated charts
Overview: Yardeni QuickTakes shares the most concise analysis of the key variables driving the global economy and financial markets. Delivered daily to your inbox and available to read on their website. It is led by Dr. Ed Yardeni, who was on Wall Street for 25 years as the Chief Economist of EF Hutton, Prudential Securities, and CJ Lawrence. He was also the Chief Investment Strategist of Deutsche Bank Securities.
Repeating topics include:
(1) Markets focus – QuickTakes emails analyze the key daily economic variables that move global financial markets, especially those for stocks, bonds, commodities, and forex. Fiscal and monetary developments are also examined, especially Fed policy.
(2) Week ahead – Each weekend, you'll receive "The Economic Week Ahead," which briefly reviews how the next weekly batch of economic indicators might affect markets.
(3) Daily analysis – Each weekday, QuickTakes present concise insights and clear charts about the day's indicators and market-moving news.
(4) Weekly webcasts – On Wednesdays, they share Dr. Ed's webcasts discussing the latest and upcoming developments that move markets.
(5) Live charts – Peruse their library of automatically updated economic and financial charts.
(6) Studies – Download Dr. Ed's studies on predicting the markets.
🚨 Yardeni QuickTakes is allowing our subscribers access to two posts that were for paid subscribers only 🚨
Why Is Gold Shining Again? (Jan. 2023 – 3 pgs)
This looks at the set up for gold, how it ties to the US Dollar, US Tips, and other commodities, and what it implies for the outlook for the global economy.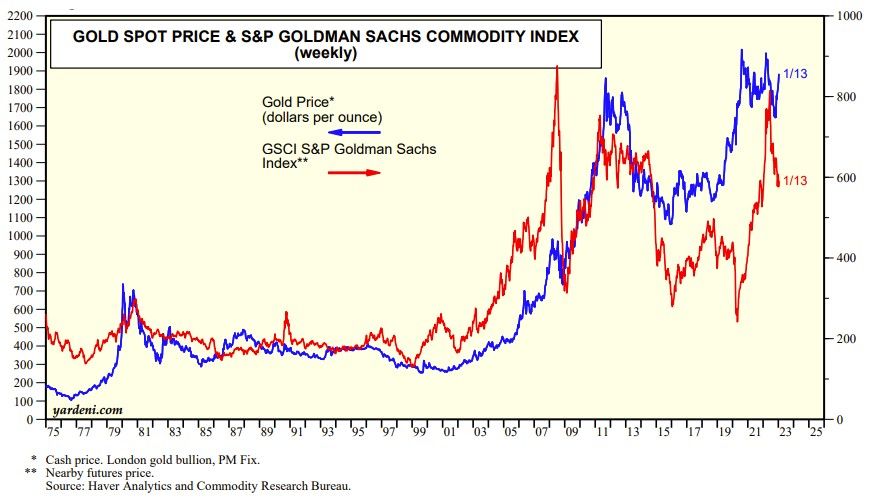 Market Call (Jan. 2023 – 3 pgs.)
This piece looked at the S&P 500 and notes it rose above it's 200-day moving average for the 5th time since early 2022 (chart below). It also analyzed sentiment, which he notes may be too bullish given the put/call ratio at the time.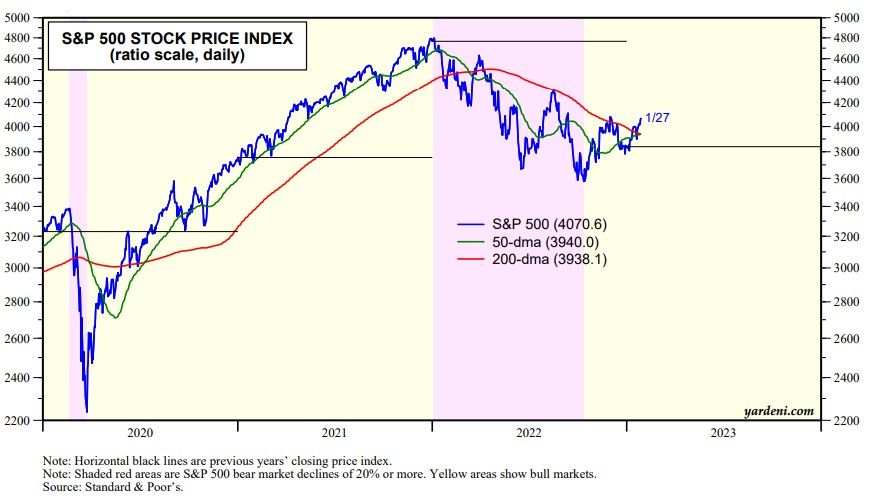 ---
To subscribe to Yardeni QuickTakes, click here
---
Good investing,
Meb Faber & The Idea Farm Team
---