Santa Claus Favors the UK
"A large proportion of Nomad's performance in 2007 came from the lessons learnt from mistakes in 2003 and 2004. Think of it as a return on prior year losses."
– Nick Sleep
---
RESEARCH
Counterpoint Global – Capital Allocation: Results, Analysis and Assessment (85 pages)
Michael Mauboussin's latest piece is a deep dive into capital allocation and the role it plays in value creation. He touches on the sources and uses of capital, recent trends with invested capital, how to assess a manager's capital allocation skills, and more.
---
Invesco – Global Asset Allocation 2023 Outlook (38 pages)
Invesco walks through economic and market assumptions and projections, as well as its model asset allocation.
---
SPONSORED BY THE CAMBRIA SHAREHOLDER YIELD ETF (SYLD)
LOOK BEYOND JUST DIVIDENDS
Healthy, thriving businesses often have something in common: lots of cash flow.
Many investors love companies that return this cash flow to shareholders through dividend payments. But dividends aren't the only way management can use its cash to create value for shareholders.
Smart managers can often buy back stock or pay off debt. These two options, along with dividends, create the trio known as shareholder yield.
So how does the Cambria Shareholder Yield ETF (SYLD) work?
SYLD selects the top 100 companies each calendar quarter based on dividends and buybacks.
The fund will also screen for value and quality factors, including low financial leverage, in order to avoid yield traps.
SYLD will then equally weight each one of the selected companies in the portfolio to maximize diversification.
Explore a different approach to yield investing with the Cambria Shareholder Yield ETF, SYLD.
Distributed by ALPS Distributors, Inc. Investing involves risk, including possible loss of capital. To determine if this Fund is an appropriate investment for you, carefully consider the Fund's investment objectives, risk factors, charges and expense before investing. This and other information can be found in the Fund's full and summary prospectus which may be obtained by calling 855-383-4636 (ETF INFO) or visiting our website at www.cambriafunds.com. Read the prospectus carefully before investing or sending money.
---
FACTS & FIGURES
.
Half of the 15,000 mutual funds in the US are run by portfolio managers who do not invest a single dollar of their own money in their products
. 
Link
Harvard employs 7,024 total full-time administrators, only slightly fewer than the undergraduate population. Link
"By the end of this century, the UN projects that Africa… will be home to 3.9 billion people, or 40% of humanity." Link
146 Christmas movies were released in 2021. Link
Billboard estimates that Mariah Carey made around $2 million from "All I Want For Christmas Is You" in 2021. Link
---
"What are the global financial markets' favorite Christmas songs of all time?"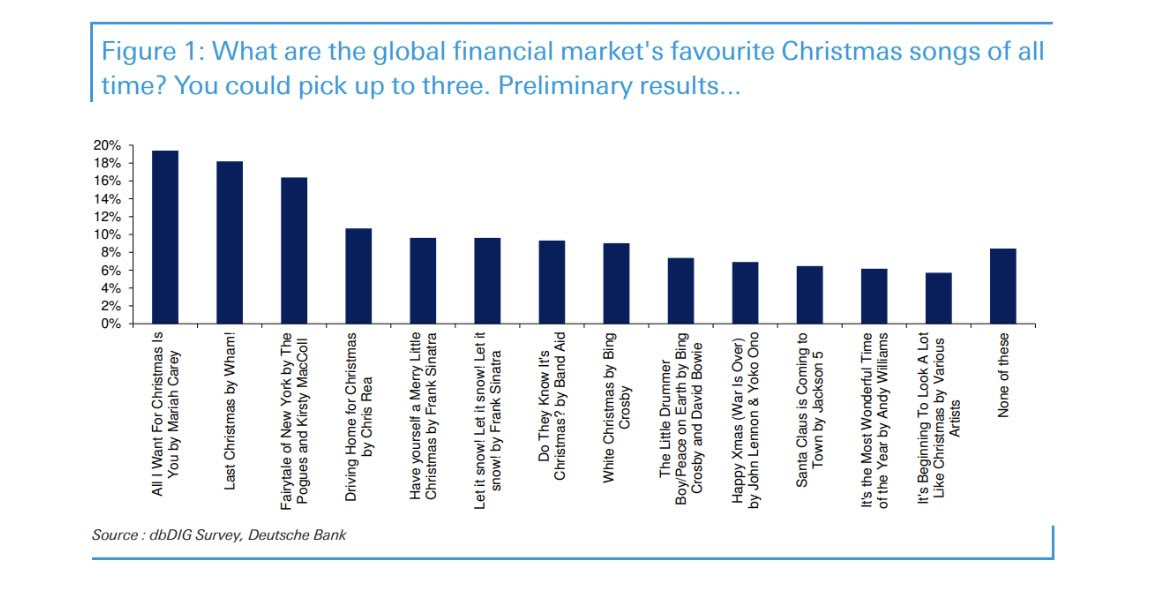 ---
The UK's FTSE 100 Index has had the best Santa Claus rally since 2000. Link
---
Totem Macro on the implications of the US reliance on foreign capital.
As of December 9, 2022
---
Goldman Sachs on the record amount of YTD US share buyback authorization announcements. Link
---
83% of the world's energy comes from fossil fuels (down only 3% from 20 years ago).  Based on projected growth in developing countries, the world is projected to consume more fossil fuels in 2050 than today. Link
---
PODCASTS
The Man Behind Kevin Durant's Billion Dollar Business With Rich Kleiman
[10/24/22 – 59 minutes]
Apple | Spotify | Google
Kevin Durant's business manager, Rich Kleiman, explains the philosophy behind KD's business ventures, which span from his foundation, media properties like the Boardroom & investing with a $200 million portfolio (all done via their own capital).
From The Episode:
"We found the companies that valued who we were as a partnership, that understood Kevin's power and how he could have an impact on a company without having to tweet it or post it…it's just not who he is."
---
A Prescription For Healthcare Investing
[11/18/22 – 21 minutes]
Apple | Spotify | Google
MIT economist & professor Andrew Lo shares what led him to want to help the biotech field better finance breakthrough therapies and co-found QLS Advisors. He explains some of the new financing models for biotech can reduce financial risks, lower the cost of capital, and bring more lifesaving therapies to patients faster.
---
Felix Zulauf: Credit Meltdown Will Force The Federal Reserve To Backtrack On Tight Money Policy
[12/9/22 – 48 minutes]
Apple | Spotify | Google
Renowned macro investor Felix Zulauf shares his 2023 market outlook.  He shares why he believes there will be recessions in Europe and China, why he thinks the Fed will pivot, and what his outlook is for stocks, bonds, commodities, and crypto.
---
Want to share this with someone? Click here
Did someone forward this to you and you'd like to subscribe? Click here