"The top three investing skills are patience, temperament, and having your career coincide with a 30-year uninterrupted decline in interest rates."
– Morgan Housel
---
RESEARCH
Dede Eyesan, Jenga Investment Partners – Global Outperformers (287 pages)
A thorough analysis and deep dive through factor, geographic, and industry lenses to gain an understanding of the drivers that underpin the world's outperformers. He wrote a long Twitter thread on the paper, and was also interviewed on the Value Hive Podcast.
Source: Jenga Investment Partners
---
FACTS & FIGURES
.
>50% of Disney+ subscribers are adults without kids
. 
Link
17% of the world's gold is held by Indian retail consumers. Link
Worldwide, sales of electric vehicles in 2022 passed 10% market share for the first time; 11% of total car sales in Europe (Plug-in hybrid vehicles were another >9%), EVs were 19% in China, and 5.8% in U.S. (up from 3.2% in 2021)​. Link
Berkshire Hathaway has grown its book value per share by 14,123x since 1955. Link
---
The 120-day rolling correlation between global stocks and bonds hasn't been this high since at least 1998.
.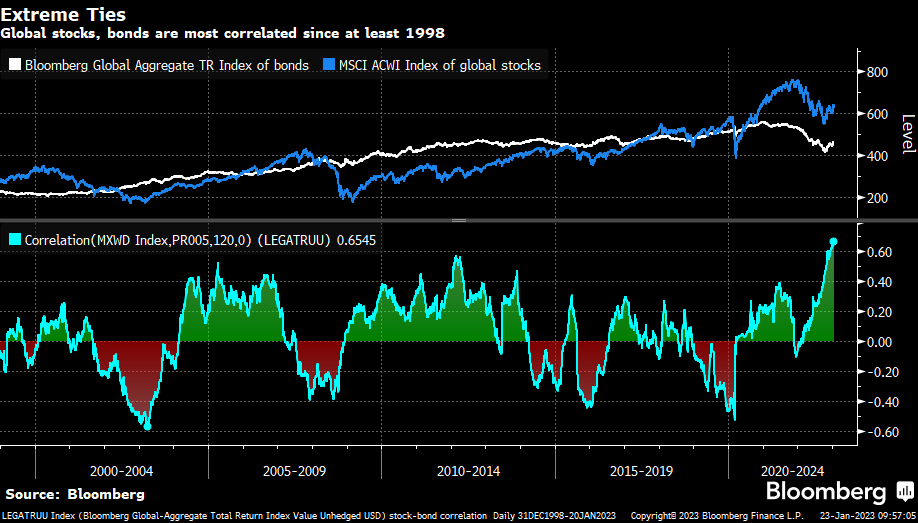 ---
The Energy Sector has an earnings weighting ~2x the size of its market cap weighting.
.
As of 12/31/22
---
US outperformance over the MSCI EAFE has now lasted for more than 15 years.
.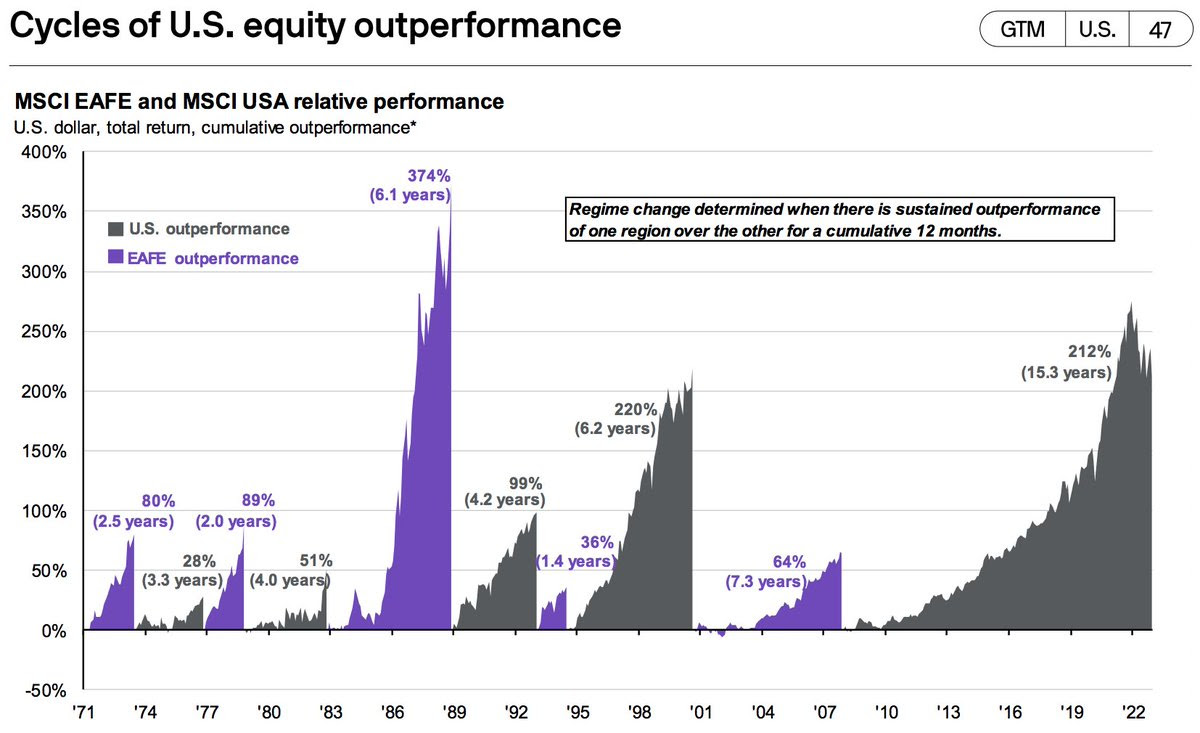 Source: J.P. Morgan. As of 12/31/22
---
Tech is now 16.8% of S&P 500 Value Index.
.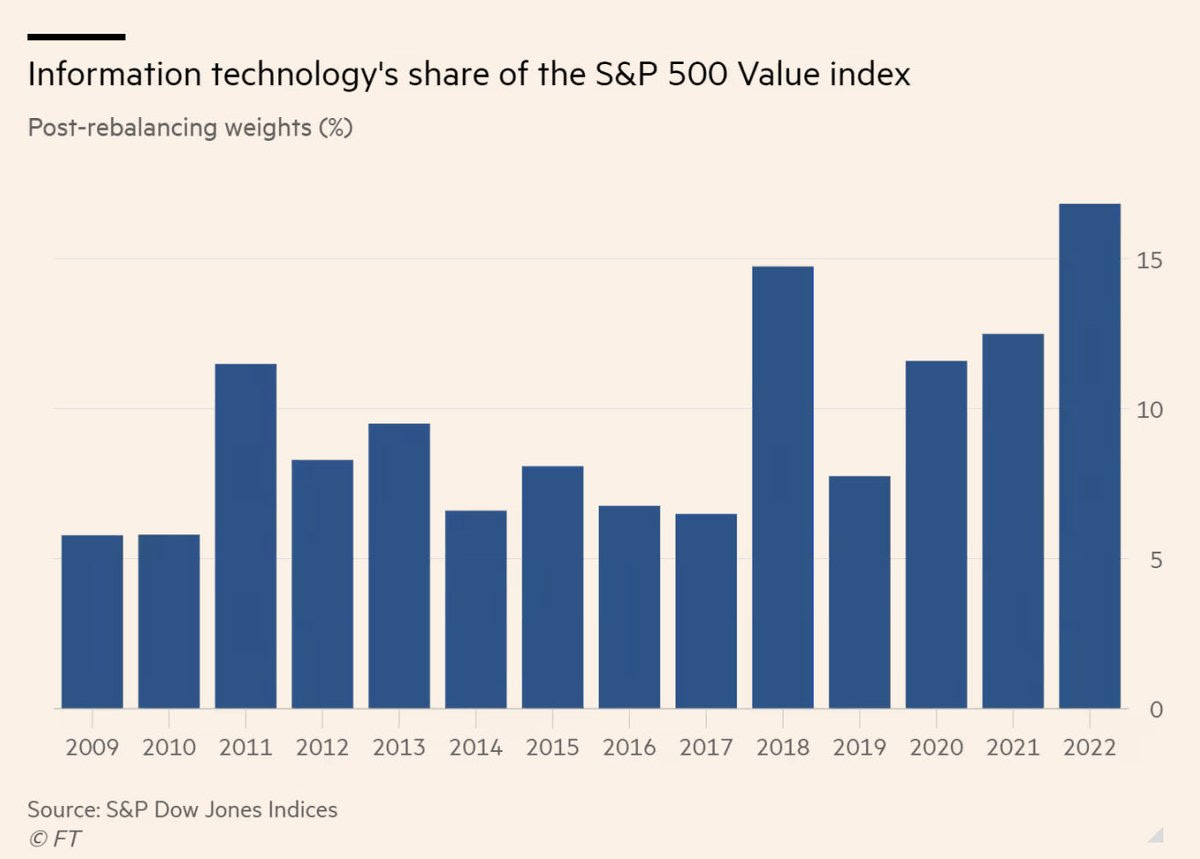 As of 12/31/22
---
JOIN LIVE: AcreTrader Annual Business Update Webinar
AcreTrader, the farmland investing platform that makes it easy for investors to diversify with farm and timberland assets online, is holding a live Annual Business Update webinar on Wednesday, February 1 at 11 AM Central.  
Join this free, online event to hear in-depth about:
2022 investment performance, including recent distributions and dispositions
Major milestones in AcreTrader's business growth over the past year
Upcoming product launches and new features on both the AcreTrader platform and Acres, the geospatial land research platform
Hosted by AcreTrader CEO Carter Malloy and COO Garrott McClintock and followed by a live Q&A, this is your chance to gain deeper insight into how AcreTrader is using advanced data, technology, and expertise to empower you to buy and sell land smarter. They hope to see you there!
---
PODCASTS
Shattering Immigration Myths: Data Beyond Borders
[1/19/23 – 35 minutes]
Apple | Spotify | Google
This episode looks at what the data says on how decades of immigration policy have shaped the United States over time, and why immigration is such a polarizing topic in the US.
---
LIVE: The Myth of the Million Dollar Tulip Bulb
[1/20/23 – 38 minutes]
Apple | Spotify | Google
Economist Tim Hartford explains why the widely shared story of the tulip bubble is an exaggeration, what Charles Mackay wrote about the history of speculative manias, and why Mackay wasn't able to remained disciplined during the rail boom in the `1940s.
---
Is This the End of US Dominance?
[1/22/23 – 51 minutes]
Apple | Spotify | Google
Totem Macro's Whitney Baker discusses the convergence of deglobalization, inflation, and quantitative tightening and the opportunity in emerging markets as the world transitions to a multipolar geopolitical-macroeconomic regime.
---
Want to share this with someone? Click here
Did someone forward this to you and you'd like to subscribe? Click here