"If something looks irrational — and has been so for a long time — odds are you have a wrong definition of rationality."
– Nassim Taleb
---
RESEARCH
J.P. Morgan – Guide to the Markets 4Q 2022 (71 pages)
---
Bridgewater – The Fed Has to Keep Tightening Until Things Get Worse (6 pages)
Bridgewater on the Fed, inflation, the labor market, and financial conditions.
Source: Bridgewater
---
.
Maybe It's Time for a Boring Investment
With both stocks and bonds down and still falling, it may be time to investigate an asset that's a little less…eventful.
Over the past 20 years, the NCREIF Farmland Index has outperformed the S&P 500 with less volatility.1
Research from Nuveen, the $1.3 trillion investment manager of TIAA, has shown that adding 2-5% of a portfolio to farmland and/or timberland can improve a portfolio's overall returns and at the same time reduce risk.2
AcreTrader makes it simple to invest in professionally reviewed farmland online and seek passive income.
In the past couple of months they've reported on their first four fully realized deal cycles, and now have offering hitting the platform each week.
And they added timber offerings to the platform earlier this year.
Try boring. Try farmland by visiting www.AcreTrader.com/meb.
1Source: (2022, August 11). Morningstar. The annualized return for the NCREIF Index is calculated based on the published Index levels from 3/31/91 to 6/30/22.
.
2
Source: (2021, May). Nuveen. Resiliency and diversification from uncorrelated market exposure.
.
Index performance is presented for illustrative purposes only. Past performance is no guarantee of future results. The National Council of Real Estate Investment Fiduciaries (NCREIF) published the NCREIF Farmland Index, a quarterly time series composite return measure of investment performance of a large pool of individual farmland properties acquired in the private market for investment purposes only. Investments cannot be made in an index. Unmanaged index returns do not reflect any fees, trading costs or other expenses.
---
---
BONUS CONTENT
 Investing is hard. 
Link
---
 Stanley Druckenmiller speaks with Palantir CEO Alex Karp on global instability, the Russia/Ukraine war, and creating a company that thrives in chaos. 
Link
Now we're in a situation where no one wants to talk about how bad it could get because people are more realistic that it could get that bad. 
---
 Bill Gurley on layoffs, remote work, the state of start-ups today, the structure of Benchmark, & more. 
Link
You have to play the game on the field. If everything has reset, it has reset. The sooner you get in touch with that, the better you'll do.
---
 John Hussman looks at valuations, the historical precedent of lost decades for US stocks, interest rates, & more. 
Link
The way that bubbles unfold into preposterous losses – 89%, 82%, 50%, 55%, and I expect this time between 50-70% – is through multiple periods of decline and even free-fall, punctuated by fast, furious "clearing rallies" that offer hope all the way down. By the time investors experience the second or third free-fall – and we've hardly experienced the first one yet – the psychology of investors is not "this is the bottom" – but rather, "there is no bottom."
---
---
PODCASTS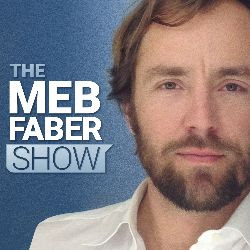 From The Episode:
"By the way, the coal guys are trading 75%-100%. For those who don't follow this, what does that mean? You can buy the company out in one year. So, if it's trading at 75%, you buy the company out, take it private and you own 75% of it one year. What does that mean? These companies will end up going private and go completely out of the purview of ESG, which is why it's not a sustainable solution here."
---
---
From The Episode:
China spends more money importing chips than importing oil every year.
---
Want to share this with someone? 
Click here
Did someone forward this to you and you'd like to subscribe? Click here