"All of history and all of life is stuffed full of the unexpected and the unthinkable."
– Peter Bernstein
---
RESEARCH
Bain – Global Private Equity Report 2023 (76 pages)
Bain's 2023 Global Private Equity report looks at the state of the industry, which is at a "pause" since the Fed began raising interest rates in mid-2022.  They cover some key trends that are changing the private equity landscape, including:
The real and imagined impact of web3 on investment markets
The drive for individual or retail capital by GPs
What the great energy transition really means for investors
The impact of persistent inflation on private equity portfolios
---
BONUS CONTENT
.
Cliff Asness joined Bloomberg to discuss the set up for value stocks today, diversifiers like trend-following and private equity, & the impact of AI on markets (24 minutes). 
Link
Bridgewater's newest co-CIO, Karen Karniol-Tambour shares why she believes we've entered a new paradigm where deflationary impulses are fading while inflationary forces are rising, and the implications for global markets (34 minutes). Link
The PBS Frontline documentary, "Age of Easy Money" looks at how the US went from the Great Financial Crisis to the recent events with Silicon Valley Bank. It features the likes of Jeremy Grantham, Jim Chanos, Central Bankers, and more (2 hours). Link
Scott Galloway's take on Silicon Valley Bank & Venture Catastrophists. Link
Scott Sumner on the wrong way to think about moral hazard. Link
---
Bank failures since 2001.
---
GaveKal showing bank deposit rates have lagged the rise in the Fed Funds rate.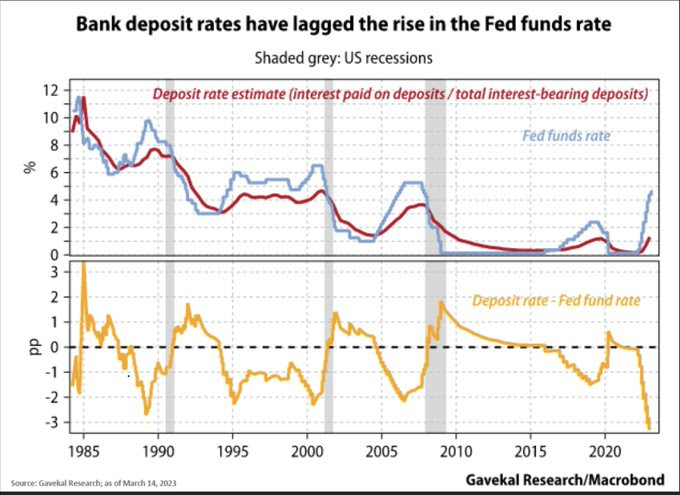 ---
SPONSORED BY ACRETRADER
An Investment That's Historically Beaten Inflation
With the CPI coming in at 6.5% in December, inflation may have eased slightly, but it's still way beyond the Federal Reserve's 2% target.
While farmland historically does not show much of a correlation with stocks or bonds, it has shown a positive correlation with inflation since 1969. Not only that—farmland shows a positive spread to inflation.1
As a real asset with a direct relationship with commodities and food prices, farmland tends to hold value and even appreciate when inflation climbs.1
Research from Nuveen, the $1.3 trillion investment manager of TIAA, has shown that adding 2-5% of a portfolio to farmland and/or timberland can improve a portfolio's overall returns and at the same time reduce risk.2
AcreTrader makes it simple to invest in professionally reviewed farmland and timberland online. In the past couple of months they've reported on their first five fully realized deal cycles, and now have offering hitting the platform each week.
Visit AcreTrader.com/Meb to see if farmland could be the diversification your portfolio needs right now.
---
PODCASTS
Cliff Asness on Quant Value Investing
[3/17/23 – 113 minutes]
Apple | Spotify | Google
Cliff Asness shares why he likes the combining value and momentum, why sometimes it's fine to sin a little, why trend-following is a great diversifier, and more. 
---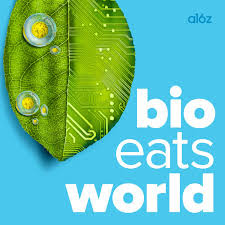 American Optimism with Joe Lonsdale
[2/23/23 – 39 minutes]
Apple | Spotify | Google
Serial entrepreneur & investor Joe Lonsdale shares what led him to become a co-founder of Palantir & Addepar, what factors lead to innovation vs stagnation, monopoly power in healthcare, and where he sees opportunities to invest today.
---
SPECIAL: The Banking Crisis with Edward Chancellor
[3/20/23 – 48 minutes]
Apple | Spotify | Google
Financial historian Edward Chancellor discusses the banking crisis and the common thread across the financial stresses around the world: rising interest rates to tackle inflation.
---
Twitter LinkedIn YouTube Tik Tok Instagram Podcast
Want to share this with someone? Click here
Did someone forward this to you and you'd like to subscribe? Click here